Let me start by saying I love love these pants.  Purchased from H&M, these pants actually had a completely different shape originally.   Prior to my handy-work they were essentially a genie pant (without the drop crotch) with a banded hem at the ankle and from that hem was pleating.  Additionally, the belt loops all had cheap plastic buttons on them - yuck.  I promptly removed the buttons, and tacked the belt loops down.  Next I ripped the exterior side seams, and completely reshaped the leg of the pant giving them a blousant shape which tapers to a slim leg and a simple non banded hem.  The result - a look that is conceptual and wearable rather than cheap and dated.  The top I have on is a Corpus top for Urban Outfitters, and it is the softest flimsiest thing in the world - in a good way!   
I chose to pop this look with killer accessories and my favorite neon pink!  The belt is vintage.  The cuff with pearl detail is from Forever 21, and the charm bracelets are both Assad Mounser. The clutch (which I also have in black) is a very non-cheap looking party option, from Forever 21...
My lipstick is a MAC combo of Lady Danger and Amplified.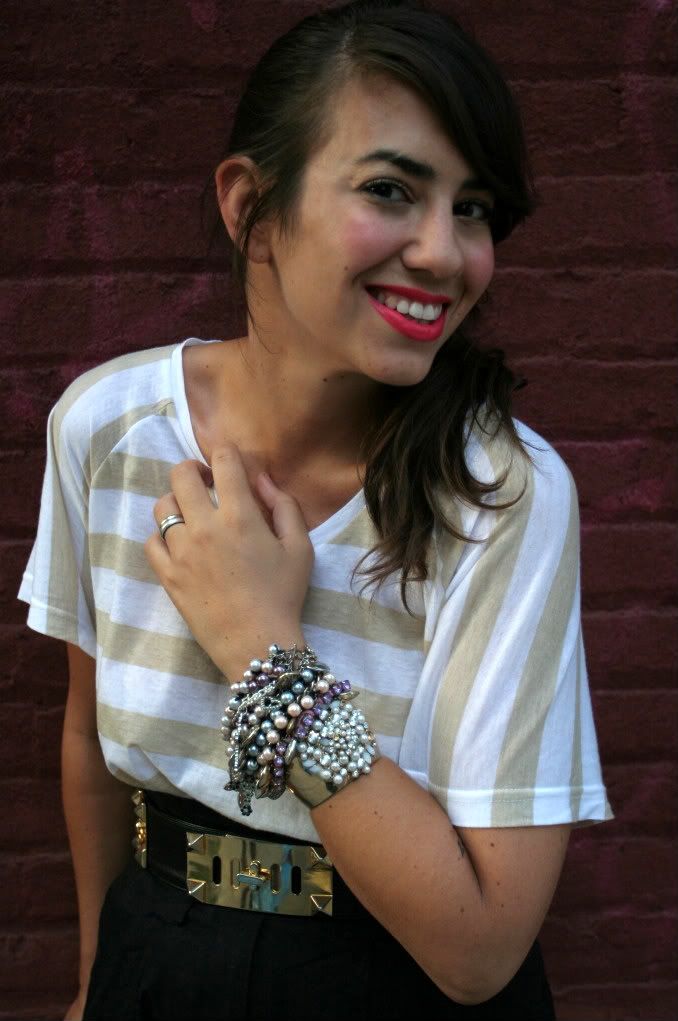 Close up of the bracelets...
And these are the most comfortable heels in the world!  I can run around in them from 9:00 am to 3:00 am!  They are the Spider by Alejandro Ingelmo.