I am so sorry for the scattered posts - I have been super busy getting my collection ready for New York Fashion Week! I did manage to break away to see the always beautiful United Bamboo show.
Below are images of what I wore to the show...I wore a slinky moss green tank by American Apparel, an equally slinky black cardigan from Forever 21, and the floral piece over the cardigan is
Junya
Watanabe
for
Comme
des
Garcons. My acid washed jeans are from Urban Outfitters, and my bag is Yves Saint Laurent.  My necklace is a brand new Spring Summer 2010 Assad
Mounser
piece. For
Kirna
Zabete's
10
th
Anniversary Party, and in conjunction with Fashion's Night Out, I did a special limited quantity early release of a few SS 10 pieces, and this necklace, the Space
Oddity
in Neutral was included.  To find out more, or to order, call Kirna Zabete at 212.941.9656
.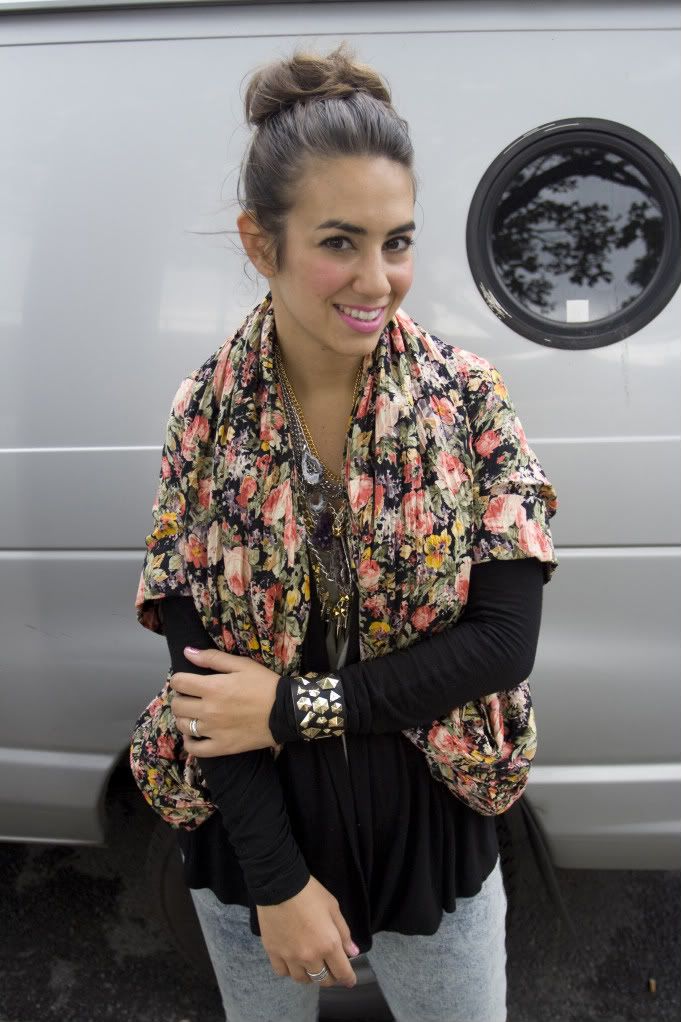 United Bamboo's Spring Summer 2010 Collection brought forth a very proper set of looks meant to inspire the whim of drifting though a manicured garden all the while being
impeccably
dressed to compliment the surroundings in bloom and vice
versa
. After all, the collection was inspired by the Duke and Duchess of Windsor known for their ground breaking sense of style for the era. Don't confuse this description of English formality as being stuffy or antiquated. These looks were the epitome of effortless modern. From head to toe, each look was well thought out yet put together with a sense of ease. Models floated down the runway in black
crinoline
sculpted hats adorned with
multiple
airy rosettes. There were also nods to the nautical trend with details such as sailor collars and swashbuckler silhouettes. Cocktail solutions were also in abundance in hammered silk and metallic
linen
and satin
donning
the
quintessential
UB
graceful
origami
detailing. The
metallic
linen
and satin fabrications in fact were show stoppers, with vertical wrinkling, silhouettes in these materials nodded to the idea of picking up a garment off the floor with a sense of ease and looking fabulous upon slipping it on. Garments that utilized this "washed" fabric in particular were a charming high waisted pant, cocktail dress, and
translucent
backed black jumpsuit (the final look of the show) all pieces you wish you could wear right now. Unfortunately during the show, it was hard for me to capture a good runway image, so I am going to have to post my favorite looks tomorrow. In the meantime, I swiped 3 images from racked.com.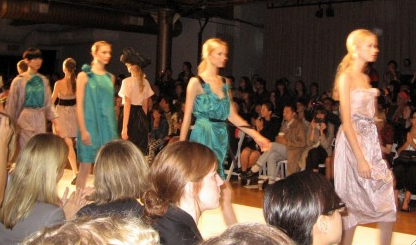 Finally, there was a set of unexpected painterly prints done by artist Pier
Fichefeux
. Dark and moody yet whimsical, their contrast to the airy quality of the rest of the show was a delight to see. Upon researching Pier's work, I fell in love. His graphic use of color and illustration was really interesting in that the look is a combination of harsh and soft. Although I did not capture any of the looks from the runway, I did manage to snap a few of the backdrop walls decorated as large canvases to Pier's handiwork, and I have included these (the first 2 images) in addition to some work from his portfolio.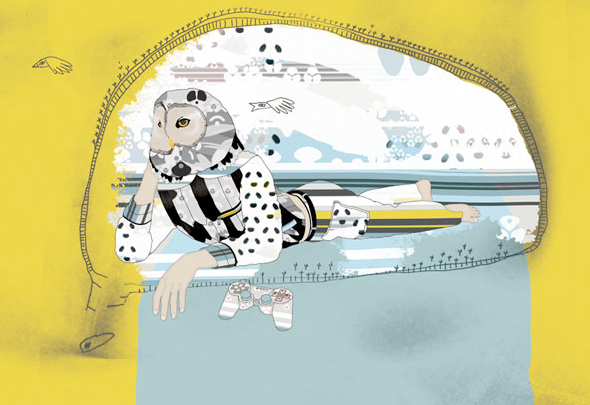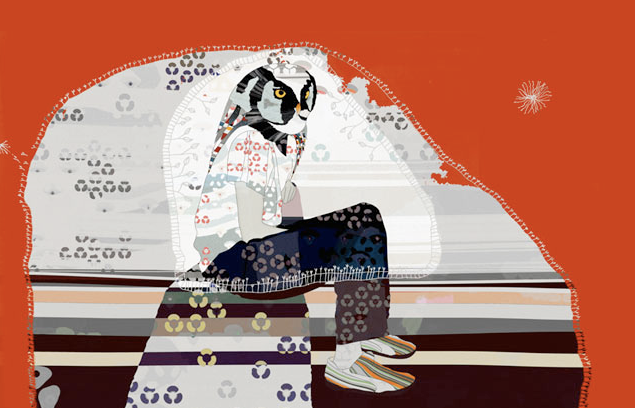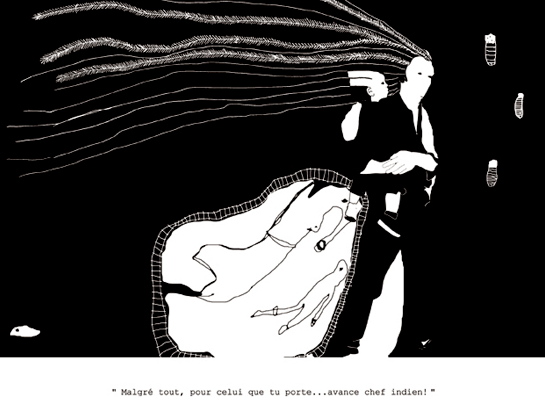 These next three images were part of a project for Louis
Vuiton